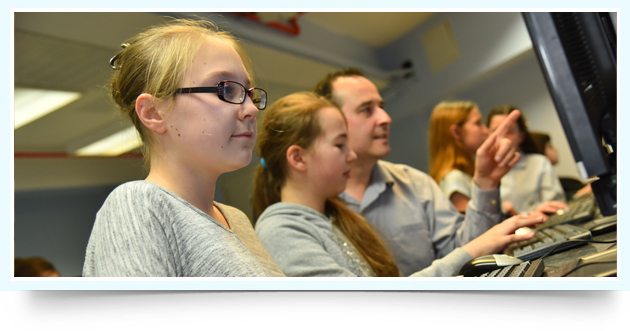 Philosophy
At the Big Apple Academy, we are committed to providing an excellent education that takes into account the interests, abilities and needs of each student and promotes both an understanding of diversity in our community as an integral part of school life and appreciation for it. It is vital that each student at the Academy develops his or her intellectual independence, as well as creativity and curiosity. These are the key and fundamental principles that distinguish Big Apple Academy from any other private school NY abounds in.
Our approach embodies a great array of learning methods and teaching styles. Our teachers successfully combine innovative and traditionally effective educational techniques in order to arouse students' interest in the learning process. We help our students to learn and to find the motivation to reach their greatest potential. The curriculum is based on the individual abilities and interests of each student in order to ensure that every young person takes pride in his or her accomplishments. It is our academic philosophy to educate and nurture a diverse student population so that each child, as a whole person, may excel intellectually, live spiritually and act justly.
We strongly believe that education brings the greatest benefit when youngsters find rewards in the learning itself. The academic program of the Big Apple Academy has been constructed to engage the minds and hearts of our students and help them become lifelong learners. Our students are encouraged to think using their analytical power, imagination, and creativity. The Big Apple Academy invites young people to stretch and grow by exploring a wide variety of subjects. Our curriculum helps students to highlight and develop their natural talents and to grow in skill and confidence. Students studying in our K-8 NY school receive both regional and national recognition for their work in every sphere. We provide young people with an education that prepares students not only for college, but for life, as we teach them how to become independent thinkers, lifetime learners and active participants in a democratic society.
Elementary School
AIn the Elementary School, young students receive the nurturing that makes them feel at home at the Big Apple Academy. Our students always feel free to ask teachers questions, they are eager to explore and to create. The Elementary School age is a remarkable one as children at this age have boundless curiosity.
It is our aim to engage our students in experiences that will extend their interest in learning. Reading, writing, science, and mathematics skills form the essence of the Elementary School curriculum. Our teachers, having extensive knowledge of child development, always try to meet the individual needs of each student. At the Big Apple Academy, we put students at the center of their education. We strongly believe that when we build our programs around children (not vice versa), students can start to perceive learning as a meaningful as well as fun process. If you are looking for emotionally nurturing, intellectually rigorous, and unique programs, then the Big Apple Academy is the right choice for you.
Students at the Big Apple Academy are surrounded by language and literature at all ages. Children at our school are always encouraged and challenged to put their feelings, ideas, and experiences into words, no matter whether they are spoken or written. We give them all the necessary skills they need to navigate the world of print and books. Our teachers give a great deal of thought and commit many resources to making sure that all our students succeed in learning to read. Our core curriculum is well designed and children find it exciting. By the time children reach the upper grades at the Big Apple Academy, they are prolific writers, accomplished readers, and feel comfortable working with a variety of genres and media.
As for mathematics, we believe that it is our aim to build students' mastery of basic reasoning skills as well as a conceptual understanding of mathematics. Children at the Big Apple Academy weigh, measure, build, and work with a wide range of hands-on materials to get acquainted with both numerical and spatial relationships. All this gives children an opportunity to experiment when solving open-ended problems and to apply their mathematical skills to specific purposes. We are aware of the wide range of learning styles and abilities that exist within every classroom, and we try to work to help each and every child.
We invite children from different boroughs of New York City to enroll and develop their abilities in our Elementary School (Queens, Brooklyn and Staten Island are covered in school bus transportation).
Junior High School
Adolescence is a period of dramatic emotional, physical, intellectual, and social development. During the junior high school years, children's ability to reason abstractly and to think analytically is emerging. This is a unique time in a young person's life. Adolescents start to question the importance of what they are learning and try to apply what they know to real situations. Youngsters are energetic and social and able to learn rapidly in a collaborative and active environment.
The JHS curriculum rests on a department-based program enhanced by cross-curricular projects and themes of intellectual weight. Such projects foster vital mental habits in students that include healthy risk taking, empathy and self-reflection. Our teachers are aware of all the complications that come with this developmental phase and they try to create a stimulating, caring and safe atmosphere in the classroom. They are committed to supporting young people as they are faced with a great array of adolescent challenges. At the Big Apple Academy we have thoughtfully planned each year of JHS to take into account the distinctive characteristics of this age. Our JHS teachers are keenly responsive to the needs of adolescents.
It is our aim to create a strong working relationship between students and teachers, and young people at the Big Apple Academy learn to become their own advocates. Students know they can always ask for (and receive) extra help from their teachers. Contrary to other NY schools, at the Big Apple Academy one sees students and teachers sitting together at a lunch table or in an empty classroom. We encourage the collaboration and connections that are of vital importance for early adolescents. We strive to create a good learning environment for our students, which will enable them to produce their best work and achieve individual success. Young people emerge from our JHS as confident, competent learners who are able to work in a wide range of different settings and subject areas.