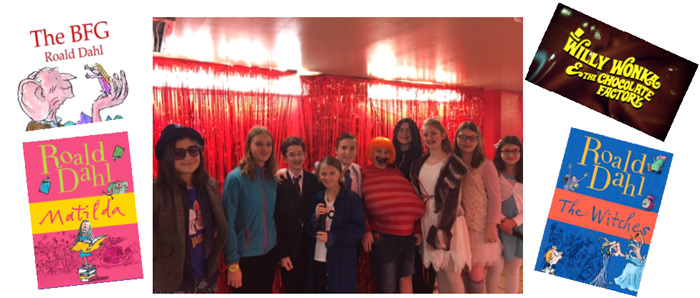 Whimsical! Comical! Delicious!
These are only some of the adjectives the students of the Big Apple Academy used to describe the event inspired by the writing of a beloved children's' author
Roald Dahl. The students' excitement was obvious as they watched their favorite characters come alive! Mr Rolad Dahl himself, Willy Wonka, gum-chewing Violet Beauregarde, the bratty Veruca Salt, the chocolate loving August Gloop, Charlie Bucket, the BFG, Sweet Sophie, Matilda, the Grand High Witch and more presented by the cast of 6A were all happy to celebrate their sweet success!


Our guests, the students of Grade 3, 4, 5, 6 had an exceptionally sweet time making their own cookies. Their creative sprits came to life while they worked at the Arts and Crafts stations, made their own hats and of course, had a chance to dip into the Chocolate Fountain!


The Seventh and Eight Graders presented their own artistic interpretations of Dahl's best works. These included art work, 3-D models, and of course, yummy treats inspired by the books. This museum exhibition was absolutely delicious!